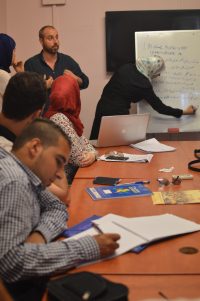 Since 2013, Syria Direct has trained aspiring Syrian and international journalists of all backgrounds and levels of experience. Syria Direct offers a variety of journalism training services with a particular focus on remote conflict reporting and analysis. Syria Direct has become an expert in remote conflict reporting, having covered the Syrian conflict from Jordan and Lebanon since 2011 and creating and sustaining a strong network of on-the-ground sources. Our training program, initially created to promote freedom of expression and media freedom in Syria, can be applied to other regional conflict zones such.
Syria Direct's training program can be tailor-made to fit your organization's needs. Both in-person and online offerings range from the basics of professional journalism to advanced investigative reporting, as well as training on how to accurately and professionally report on contentious and controversial issues, gender-sensitive reporting, fact-checking and dealing with sources. 
To inquire about Syria Direct's training packages, please contact info@syriadirect.org.